The loss of a single life at the hands of police is an unacceptable tragedy. Yet in America, police kill more than 1,000 civilians each year, brutalizing countless others. We repeatedly hear that these daily tragedies are caused by "just a few bad apples," but we rarely see these bad apples held accountable. The lack of police accountability has become an obstacle for healing and will remain a deeply corrosive force in all our communities until we pass HB 1727 and end qualified immunity for bad apples in our police force.
URGENT: Please take action now by calling 1-866-581-7519 to be connected to your state legislator and urge them to support HB 1727.
We hope you will join the ACLU of Illinois this spring for our virtual engagement series, No More Bad Apples: Police Accountability Now to explore these issues and understand what each of us can do to achieve police accountability. Together, we will examine the mechanisms that embolden police officers  to engage in unconstitutional conduct with impunity and the steps we must take to have an accountable police force, including:
"No justice, no peace." That was the refrain we heard in our streets in the wake of the brutal killing of George Floyd.  Protestors assembled and said his name, and recited the names of Breonna Taylor, Sandra Bland, Laquan McDonald, Eric Garner, and countless others who were killed by the police. Unfortunately, many police unions and associations responded, not with understanding or compassion, but with more brutality, stonewalling, and opposition to state level efforts at achieving meaningful reform. Now, as our communities continue to the tragic killing of Adam Toledo by Chicago Police, we ask again: what will it take to achieve holistic, meaningful police reform?
Each of us has an important role to play in this movement.  We encourage you to join us for our virtual engagement series, learn more about policing in Illinois and what you can do to ensure we divest from a system that disproportionately harms Black and Brown folks and transform it into something that serves and protects us all, and take action today.
---
Sign up for Action Alerts and People Power to stay up to date on our legislative agenda:
An informed activist base is a strong and integral foundation for our work. Follow us on social media, and share important updates with your networks: 
Facebook | Instagram | Twitter
---
Previous Events:
NO MORE BAD APPLES: A CONVERSATION ON POLICE ACCOUNTABILITY
April 19, 2021 | 7:00 - 8:00 PM CDT
Please join Illinois State Rep. Curtis Tarver and the ACLU of Illinois on Thursday, April 19 at 7:00 PM CDT for a special virtual event in support of HB 1727, the Bad Apples in Law Enforcement Accountability Act.
The Bad Apples Act, introduced by State Rep. Tarver, would allow people in Illinois to bring lawsuits against police who violate their constitutional rights without worrying that an officer will not be held accountable because they were protected by blanket qualified immunity.
We cannot have justice for victims of police violence – or begin the healing process that violence has caused – without police accountability. That is why the Bad Apples Act is necessary now.
Watch a recording of the event
NEXT GENERATION SOCIETY VIRTUAL BOOK CLUB: WHEN THEY CALL YOU A TERRORIST
May 18, 2021 | 7:00 - 8:00 PM CDT
The Next Generation Society is hosting a book club for all ACLU supporters and friends! Next Generation Society's book club discusses books that are important to the work of the ACLU. Join us on May 18 at 7pm for an interesting discussion and to hear from ACLU of Illinois Staff Attorney Elizabeth Jordan about the importance of police reform and accountability in our state, and what the ACLU is doing to change the system.
For our book club on May 18, we encourage you to read When They Call You A Terrorist: A Black Lives Matter Memoir by Patrisse Cullors, a BLM co-founder. You could also choose to listen to an interview with her on the ACLU podcast. The book explores the prejudice and persecution that Patrisse Cullors and Black Americans endure at the hands of law enforcement. The podcast was recorded on the five-year anniversary of the creation of Black Lives Matter, and on it Patrisse discusses the life that led her to co-found one of the most consequential racial justice movements of our time. She talks about the evolution of the organization since its inception, what it's like to live under surveillance, the books that inspired her, and more.
Please stay tuned for upcoming announcements on additional events!
---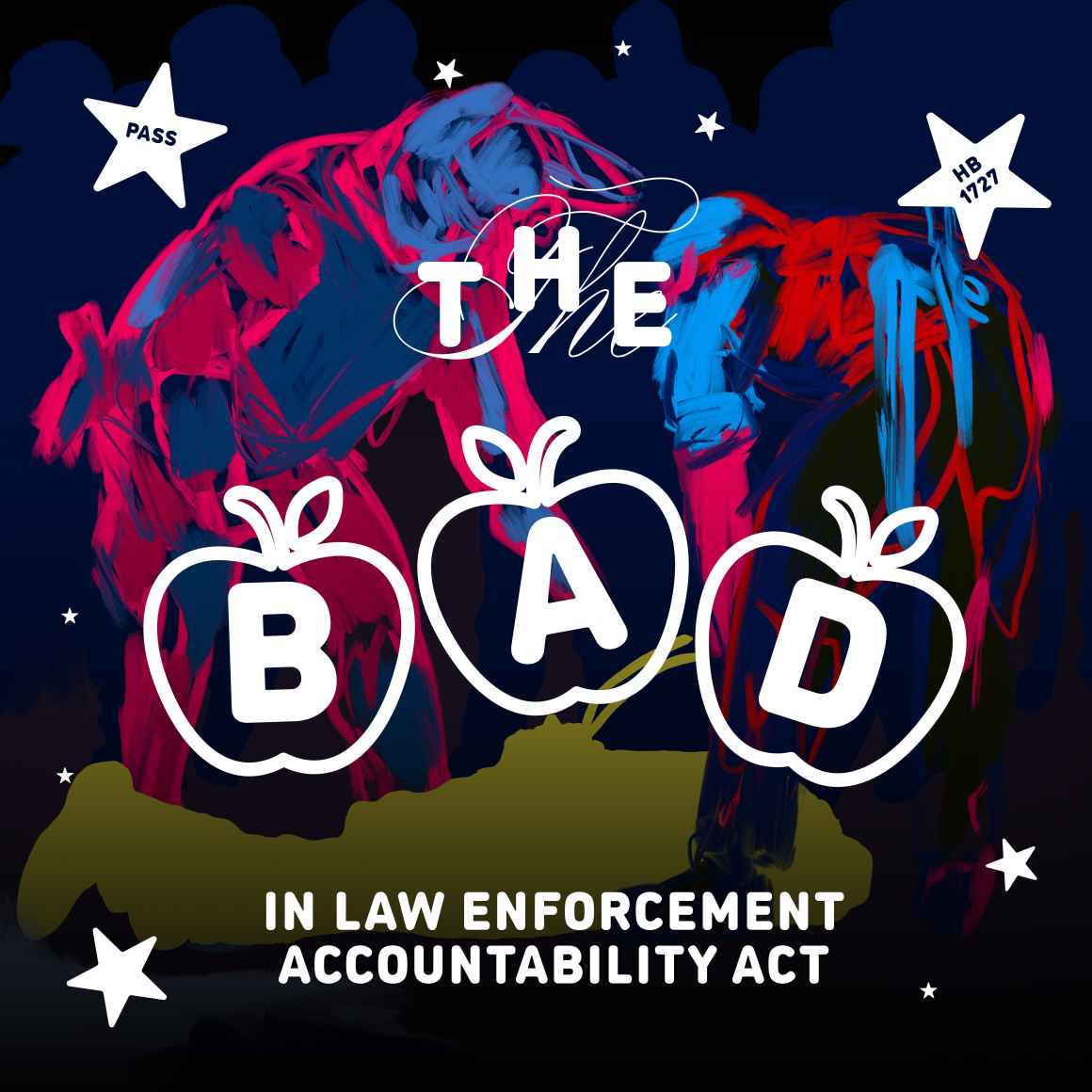 Nikko Washington, in his new body of work, is a culmination of abstract art and text in direct response to questions on police brutality and gentrification; two themes that are heavily prevalent across all bodies of his work and narratives he and his loved ones have experienced first hand. His past works include portraits of black culture, leaders and martyrdom.
---
Read:
Watch:
Listen:
---
There can be no true change until we acknowledge the difficult, but plainly obvious truth: our systems of policing and criminal justice have failed.  It has failed the victims of police misconduct who cry out daily for accountability. It has failed to fulfill the most fundamental promises of equal justice under the law found in the U.S. and Illinois Constitutions. And it also has failed every single police officer who serves the public professionally, dutifully, and constitutionally, yet cannot gain the public's trust due to the unconstitutional actions of unaccountable police officers.  This system and its iniquities are unconscionable and they need to change.     
No one should live in fear that they or a family member will be the next victim of police violence.  No one should be forced to accept that police brutality that hurt or killed a family member was protected by blanket immunity.  No police officer should be above the Constitution or above the law.  The systems that disproportionally harm Black and Brown communities must be changed – as a community, we have to demand a better, fair system for all from our government.