ACLU of Illinois lawyer Barbara P. O'Toole passes away
Barbara O'Toole, whose work for the American Civil Liberties Union of Illinois dates back to 1970 and who was part of the legal team that defended the First Amendment in one of its most challenging applications – the rights of a neo-Nazi group to demonstrate in Skokie in the late 1970s – passed away at her home on September 5, 2013.
"Barbara was a scholar and fierce advocate for the First Amendment," said Colleen Connell, Executive Director of the ACLU of Illinois. "Anthony Lewis, the late New York Times columnist and legal author, once described Barbara admiringly as a 'lawyer devoted to continuing James Madison's work.' No higher compliment could be paid Barbara," said Connell.
Ms. O'Toole began her work with the ACLU of Illinois in February of 1970 as a part-time staff counsel, and worked continuously with the organization until her death.  In recent years, she served as a nearly full-time volunteer lawyer in the office, specializing in First Amendment matters and supervising the ACLU's intake department which fields hundreds of requests for legal assistance from across the state each year.
Ms. O'Toole also served as the organization's unofficial archivist and historian, often serving as a resource to newer staff members about the organization's history and work.
A fierce proponent of the importance of the First Amendment, Ms. O'Toole worked on many of the most important cases related to free speech in Illinois and beyond.  Among the cases that she participated in addressed the ability of artists to access public spaces (Sefick v. City of Chicago), the right of street musicians and others to perform on Chicago streets (Freidrich v. City of Chicago) and the protection of controversial art (Nelson v. Streeter).
Perhaps most remembered, Ms. O'Toole was a central part of the legal team that defended the right of neo-Nazis to demonstrate in Skokie, a community where one in six residents were estimated to be a survivor of the Holocaust.  After the neo-Nazi group announced their intent to hold a march, the Village of Skokie passed a series of ordinances (and filed litigation) designed to block the group from holding their demonstration.  Ms. O'Toole worked closely with then-ACLU of Illinois Legal Director David Goldberger to vindicate the right of the group to hold their demonstration.
"Barbara and I were frequent partners in major civil liberties cases, and her wit, wisdom, and uncanny legal insights usually led to successful outcomes," said David Goldberger, former Legal Director at the ACLU of Illinois. "She combined a profound commitment to civil liberties with an uncommon loyalty to her friends and colleagues. We have lost an irreplaceable ally."
The Skokie case ultimately went to the Supreme Court of the United States, which ruled on behalf of the group to hold their demonstration.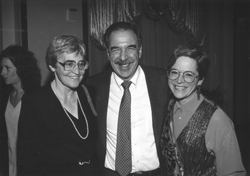 Barbara O'Toole with David Goldberger and Lois Lipton
Ms. O'Toole later worked with Mr. Goldberger on a case that went to the Supreme Court (McIntyre v. Ohio Elections Commission) that vindicated the right to distribute anonymous political leaflets.
"Barbara's quiet personality belied the tenacity with which she defended freedom of speech and expression," added Harvey Grossman, Legal Director for the American Civil Liberties Union of Illinois.  "Her achievements in many ground-breaking cases as well as the enduring values she inculcated in young lawyers and student interns over the decades are a tribute to her life commitment to individual liberty. She will be missed."
In addition to her passion for civil liberties, Ms. O'Toole's other passions were her family, Notre Dame athletic teams and the Chicago White Sox.  A long-time season ticket holder for the Chicago White Sox, Barbara rarely missed a home game – rain or shine, good season or bad.
Barbara's husband, Ed, passed away last year.  She is survived by her son, Patrick, and daughter, Mary.