The ACLU of Illinois' Executive Director Colleen Connell gave a speech at the 2011 Bill of Rights Celebration that took place on September 24 in Chicago. Read or watch her speech below.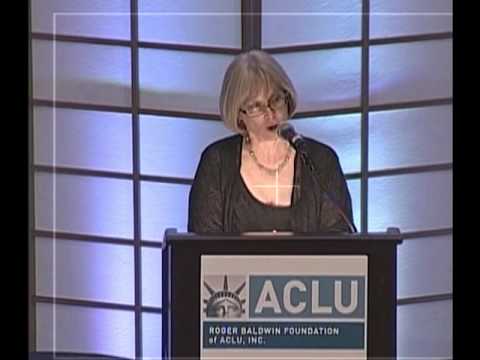 Good evening. Welcome, all of you, and thank you for joining our Celebration of the Bill of Rights.
Senators Durbin and Feingold; Illinois Senate President Cullerton – and other honored guests, thank you so much for joining us.
To the many state Senators and state Representatives here tonight who voted to enact the Civil Union Law and then to end capital punishment in Illinois – we applaud you!
Georgia's execution of Troy Davis this week -- a man with real claims of innocence -- makes us even more appreciative of your profound courage in ending the Illinois death penalty.
The tumultuous times in which we live make these triumphs in Illinois all the more significant. I suspect that many of you, like me, are distraught by what's happening around us – the elevation of fanaticism over fact; the growing intolerance; just the meanness of the discourse.
So, tonight, it is a privilege to gather to acknowledge and to celebrate that the ACLU, with your support, has held the line against those who pervert our Constitution to advance their agenda of religious hatred; racial bigotry; and  homophobia.
The ACLU refuses to accept their distorted constitutional interpretation that stops the clock in 1789 and disregards all developments of the past 200 years, including the 14th Amendment and its majestic guarantees of equal protection and due process of law to all Americans!
When Oklahoma persecutes American Muslims with a silly ban on Sharia law; when Kansas makes criminal doctors who perform abortions to save a woman's health; when legislatures across the country declare war on the 15th Amendment right to vote and adopt ballot restrictions  that make it harder for senior citizens, low income people and people of color to vote,  we in Illinois stood up and opposed these affronts to real constitutional values.
Instead of giving in to the forces of intolerance, we fought the anti-immigration laws enacted from Alabama to Arizona.
Those laws viciously target people of color – including US citizens. We pushed back to assure fair treatment for all in our state.
Proudly, Illinois enacted its own Dream Act, similar to the one being championed by Senator Durbin.
The Illinois Dream Act provides the path to education that is essential for all of our young people.
Instead of giving in to the hideous anti-Muslim animus that grew in the days, and years, after 9/11, the ACLU fought back.
We challenged the use of shamefully flawed government data bases, which resulted in gross mistreatment of American Muslims. Our litigation forced real changes in border stops that have born profound human benefit.
Earlier this year, the ACLU again spoke out forcefully against intolerant voices in Congress who held hysterical hearings about "make believe" threats from American Muslims.
The wave of intolerance sweeping the nation today continues to  take aim at many traditional targets—people who are black or brown, people with few economic resources, people with disabilities. We pushed back against this intolerance too!
This year the ACLU successfully fought attempts by government to force drug testing on residents of public housing, part of our decades-long campaign against unconstitutional racial profiling by law enforcement.
Our work on behalf of people with disabilities is compelling significant changes in the way the way the State of Illinois provides services. Our 3 lawsuits, settled in the past year, will make it possible for more than 35,000 people to enjoy new freedoms within their chosen homes rather than being relegated to a life in sterile institutions.
Even as we celebrate our new civil union law, we must continue to combat the corrosive contours of discrimination.
Here in Illinois some religiously-based adoption agencies would deny children a safe, loving home if that home is headed by a gay or lesbian couple. The ACLU of Illinois has joined this battle against discrimination and  we  will  prevail.
We also see the forces of intolerance trying to control the most intimate and important decision ANY of us make -- the decision about if and when to become a parent. We saw the U. S. House gut funding for women's health care, because that health care necessarily includes contraceptives.
In the states, we watched South Dakota win the race to the bottom.  The new South Dakota law would force women seeking abortions to submit to humiliating, degrading lectures by anti-abortion zealots.
When confronted with these attacks on reproductive freedom, the ACLU of Illinois stands strong! For 40 years, the ACLU of Illinois has  successfully challenged laws that would limit access to abortion, contraception, pre-natal testing, and a host of other essential medical procedures.
This past legislative session, the ACLU and its allies stood up and said NO to all anti-abortion measures introduced in the Illinois General Assembly. The ACLU launched our famous – and fabulous -- cow campaign. We drove home the fact that women are not livestock; and we will defend our constitutionally protected right to make our own decisions about our health care.
These are undoubtedly hard times. They are hard political times, hard social times, hard economic times. But we will not overcome the difficulty of these times by embracing intolerance and oppressing the least powerful among us.
Protecting the rights of all – young or old, people of color, those who hold popular and unpopular political views --  is the essence of why we all revere our constitution and why we support the ACLU.
Working in concert, we have pushed back the forces of intolerance in an effort to secure liberty for all.
As you know, the promises of our Constitution cannot be secured in a single year; these battles just don't stay won.
Although the evil forces of intolerance rarely retreat; let them  be warned:  THE ACLU WILL NEVER RELENT! Thank you.
Watch Senator Dick Durbin's speech.
Learn about the ACLU of Illinois' achievements this past year.
View pictures from the event.